We are now one third into 2023, and the world is in the middle of four major transitions:
Zero Interest Rate Policy (ZIRP) –> Inflation and Higher Interest Rates
Globalisation –> Global Power Rivalry
Internet & Mobile –> Next-Gen AI
High-Carbon Economy –> Low-Carbon Economy
We have only seen the beginning of the disruption caused by these changes. The next decade will see an upheaval of business unlike anything we have seen in our lifetimes. The challenges will be immense. And the opportunities will be profound.
Opportunities in software investing
These global changes continue to dislocate industries. And with that dislocation, new investment opportunities emerge. On a gross dollar basis, the biggest economic opportunity is likely in the clean energy transition. Going from high-carbon to low-carbon provides a trillion-dollar opportunity in the coming decades. It will also require trillions of dollars in investment. There will be areas with stand-out returns, but in many cases – the % returns will be modest.
When measuring on a %-return basis, the biggest investment opportunity in this decade continues to be in software. In the past decade, SaaS has already been an attractive investment category. And the value created by SaaS companies will only increase as we add more AI into the mix.
SuperSeed exists to back Europe's best B2B SaaS founders at the earliest stages and to help them build great companies. In the short term, our portfolio companies enable their customers to drive revenue growth and efficiency savings using next-generation software and AI. In the long term, they have an opportunity to create category-defining global technology companies.
The current investing landscape
In 2021 we started seeing something we haven't seen for a long time: inflation. In response, central banks have increased interest rates to reduce liquidity and cool down economies.
This policy change has done exactly what was expected. Liquidity has come down, and with less money sloshing around, so have the frothy valuations of 2020 and 2021.
The tech sector went through a massive valuation correction in 2022. From the peak in November 2021 to the through in November 2022, EMCLOUD (the Bessemer Emerging Cloud Index – an index of 75 publicly listed SaaS/Cloud companies) declined by 62%. It's not quite the dot-com collapse, but it is a meaningful drop.
During the same period, the median forward revenue multiple declined from 15x to 4.5x (it's since recovered to 5x). Investment valuations are now back to where they were in 2017.
What's happened since the start of 2023?
As of the end of April, the S&P500 is up 9%. Although not bad over a 4-months period, this is on the back of a dismal 2022. And almost all the gains are driven by the big tech stocks (Microsoft, Apple, Google, Meta, Amazon and Tesla).
EMCLOUD is up 7%, but all the gains were in January. The index has been running sideways for 3 months.
2023 continues to be an uncertain proposition for global investors. The big tech companies took the pain in Q4 and have been cutting costs. While this is boosting short-term earnings, it paints a different picture of the future. Has big tech now gone "ex-growth"? And if even Google can't be relied on for growth, what will pull the economy out of the current malaise?
The upside of "back-to-basics"
As highlighted above, we've seen a meaningful reduction in valuations. And counterintuitive as this may sound, this reduction is largely a great thing for serious technology start-up founders and investors. Frothy valuations and an abundance of capital drove all the wrong behaviours. Too much capital spent on unproductive endeavours. And too much competition for talent and customer attention.
The froth has now been replaced with a "back-to-basics" focus on strong unit economics and building good companies. This makes it easier for founders to focus on what matters and for investors to buy into the best companies at an appropriate price.
The venture eco-system in Q1
Venture funding continued to decline in the first quarter of 2023. This compared unfavourably to Q4 of last year – already the weakest quarter since Q2 of 2020. According to CB Insights, the number of VC deals was down 12% (to 7,024 investments), and value was down by 13% (to $58.6bn). This included a whopping $6.5bn round for Stripe, which was 11% of all global venture funding in Q1!
Deal value in Europe was down 12% on the prior quarter.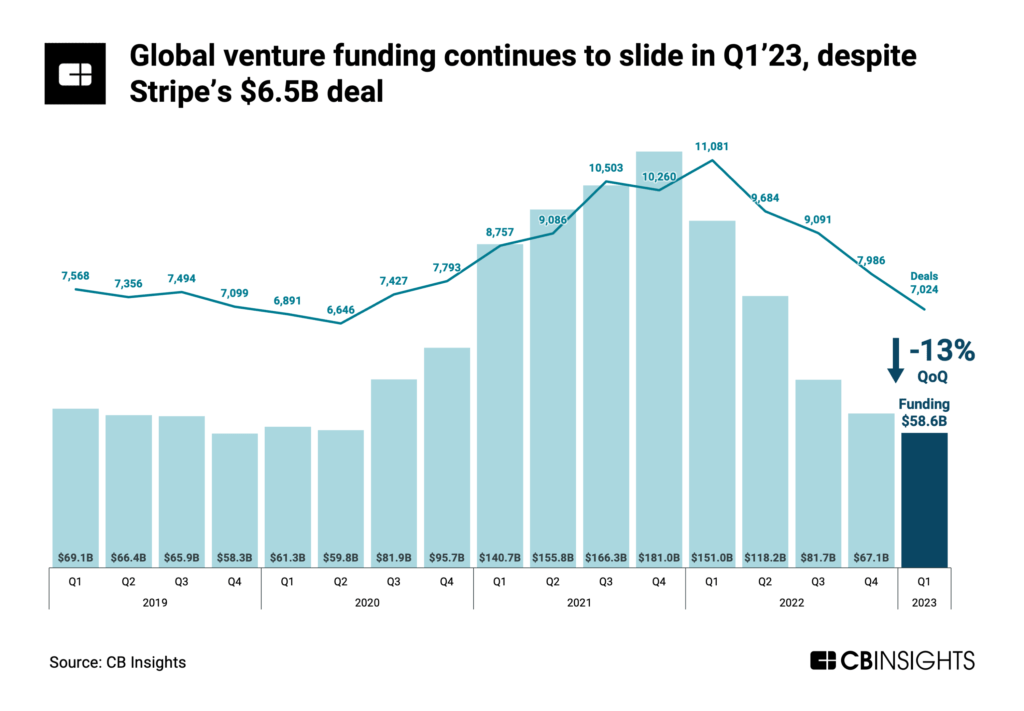 According to Beauhurst, the UK slowed slightly more than the global comparables. The number of deals were down 14% to 542 completed rounds, and the amount invested was down 36% to £2.4bn.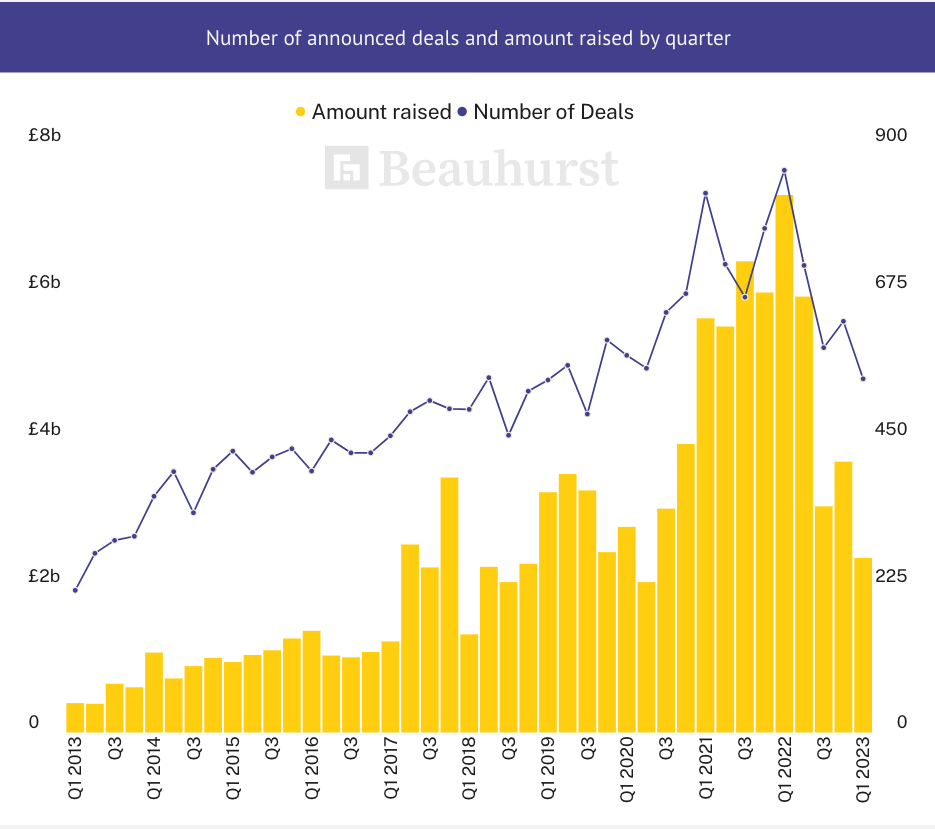 It is fair to say that the general market slowdown has continued.
The start of 2023 for SuperSeed II
Fundraising for portfolio
SuperSeed II had a solid start to 2023 – especially against the backdrop of the global venture slowdown. SuperSeed portfolio companies raised more than £10m from third-party investors. Several of these rounds are still to be announced publicly, so expect to see more press on this in Q2.
New Investments
SuperSeed II added a great new company to the portfolio in Q1: Kluster. Kluster's platform helps fast-growing, sales-led B2B companies meet and beat their sales targets. Their focus on sales effectiveness is something that is close to our core mission at SuperSeed.
For years, companies have used CRM platforms to gather sales data and enable collaboration. But there is one crucial thing still missing. How can sales teams use their data to better forecast and improve actual sales performance? Kluster founder Dan Thompson is a master statistician who has spent years developing algorithms that help improve sales performance. His co-founder Rory Brown is a veteran at building enterprise sales teams and playbooks. As the tech world shifted from splurging cash to focusing on efficiency in 2022, Kluster's model really started coming into its own. At this point, Kluster's platform is more timely than ever.
SuperSeed has already been working with the founders Dan Thompson and Rory Brown for several years. Foresight led this investment round, with SuperSeed participating in the round.
Outlook for the rest of 2023
Financial markets continue to be turbulent as we are 1/3 into 2023. At this point, we don't expect to see valuation multiples increase meaningfully in the short term.
However, the four transitions lead to many exciting investment opportunities – especially in AI.
Generative AI is a concept that has been building for years, but it came to the forefront of the tech industry in 2022. Over the past decade, AI (/machine learning) has primarily been used for classification. Show an algorithm lots of data, and it can help figure out whether it is a cat or a dog; a working product or a defective product; a stock to buy or a stock to sell. In one word: classification.
With generative AI, the field is taking a great leap forward. It's no longer just about classifying things into neat categories. It is about creating whole new things. At first, this was mainly as digital objects (e.g. a digital product design), but generative AI now extends to physical objects. An example of this is our portfolio company Ai Build. The company has created a platform which helps high-end manufacturers use AI and 3D printing to create new products faster and more efficiently. This is especially useful in automotive and aerospace, where Ai Build already has many customers.
The outlook for the Fund's portfolio for the remainder of 2023 continues to be very encouraging. We still expect revenue for the existing portfolio to more than double over the course of the year. And in parallel, we will be adding existing new AI/SaaS companies to the portfolio.
2023 is a great time to build technology companies and an excellent time to back the best technology founders to help them on their journey. We look forward to an exciting year for our portfolio and the wider software/AI industry.